Welcome to Correct Cabling, one of the most popular cabling services you'll find today! We're a based Professional Network and Audio Installers and low voltage service company that have had the pleasure of installing CCTV, Home Theater, Custom Wiring & A/V, Smart Home Automation.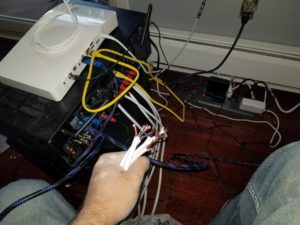 Each of our Network and Audio Installers has a minimum of 5 years experience in Custom Wiring & A/V for single family, multi-unit, and commercial properties. We are the experts when it comes to coaxial, Ethernet (CAT6), fiber optic and speaker wire. We know the building codes from the 2017 NEC codebook and up to date on the latest technology trends and gadgets. We install network camera systems to secure your home or business. Let our knowledge and experience help guide you in the right direction that will be best fit for you. Our commitment to you is that we will always provide honest and accurate assessments for the service you're seeking and never make you feel uncomfortable by trying to up-sell services you don't need or want.
That has been our commitment from the beginning, and it's one of the reasons why our customers say we are one of the top Service providers in Wisconsin and that we are the #1 Cabling and Installation services around. Come check out the rest of the website, and feel free to contact us with any questions. We're more than happy to provide a great consultation to you and help you get the service you need and deserve.