Are you thinking of upping your Home Theater? If you're a movie buff, sports fan or video game expert, having a home theater system can give the experience of being in a large movie theater without having to leave your home. You can stream your favorite movie without the hassle of waiting in line for tickets or having to sit in a crowded theater. Your home theater can be as comfortable as you want for those weekends of binge watching a new TV show or playing that video game you per-ordered.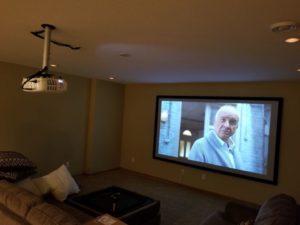 Happy clients make us happy! We have the experience and tools to go beyond what the cable or satellite company will do for your Home Theater Madison and Data Rack & Network Rack. We can take your home wireless performance to its peak, even providing wireless to your outbuildings! We can do it better, faster and cheaper than most electricians because we specialize in media, Security Camera Wisconsin and internet systems. Check out these three benefits of home theater systems from Correct Cabling :
You get the same movie-going experience, but without the hassle:  If you've been planning a Star Wars marathon with your family or friends, having a home theater will take you to a galaxy far, far away and immerse you into the epic space battles that will make you feel like a kid again. You can drastically change your movie-watching experience from a typical hangout in the living room to a movie night experience. After a long week of work or school, your family can unwind together by selecting your favorite film and relaxing in your pajamas.
You feel like you have front row tickets to the sporting event: Owning a home theater system is a must for sports enthusiasts. You can invite your friends over every Sunday and watch the game on a huge screen with surround sound. Rather than watching the game on a regular TV in the living room, you could be lying in front of a high definition television that will make you feel like you are inside the stadium.
You feel like you're actually part of the video game: Playing your favorite video games on the big screen can enhance your game-play experience.
Clients increase the appeal and value of your home: Along with an enhanced entertainment experience, a home theater system can increase the value of your home.
You can design it to your specifications: The best part of creating a home theater is that you can tailor it to your specifications. This means concerts, movies, sporting events and more can become private viewings for your family and guests. You can pick your own equipment and furniture as well as the room that contains your home theater. It can be as comfortable and unique as you want.
If you're ready to invest in a Home Theater Wisconsin system, you'll be best served by working with a professional. Correct Cabling is your go-to company for any home electrical service. Regardless of how large the scope of the project is, we'll do the best we can to put your priorities first. Give us a call at 608-469-7196 or schedule a service for one of our electricians to come out and help you with your home theater. And don't forget to follow us on Facebook, Twitter and Google+ for updates, guides and helpful information each week.