Are you looking for Buying a TV Mounts and Wire Concealment? If yes, it's time for you to purchase a TV wall mount for your new LCD or plasma television. TV Mounts and Wire Concealment can give your home theater a nice and clean look and also provides you the best possible viewing experience.
Here are the 5 most important things you should consider when purchasing a TV Mounts And Wire Concealment:
1. What are the VESA requirements for your display? VESA is the standard used by television manufacturers for the mounting hole pattern on the back of your TV. The most common VESA mounting hole patterns include 75x75mm, 100x100mm, 200x100mm, and 200x200mm. This measurement is from left to right, and from top to bottom. You can refer to the user manual for your television, or simply measure these distances yourself. Each wall mount bracket you look at will list their VESA requirements. Some mounts can even fit VESA mounting patterns up to 750x450mm.
It is also important to look at the size and weight of your TV. Quality mounts are contracted with heavy gauge steel plates, arms, and hardware. As a result, some can support as much as 200lbs!
What type of TV Wall Mount are you looking for? There are a few different types of mounting brackets you can choose from.
Tilting – A tilting mount has the capabilility to change the viewing direction up or down, usually anywhere from 5-15 degrees. If you would like the ability to change the viewing angle up or down, this mount is for you.
Tilt and Swivel – Like the tilting mount, this mount has the ability to tilt up or down, as well as swivel left to right. These are also referred to as corner friendly mounts because they are great if you need to mount your display in the corner of a room. These mounts can hang out much more than other mounts, and can also be pushed back against the wall.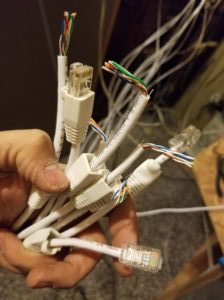 What are you going to do with all those cables? Some people prefer to hide their cables from viewing for the cleanest look. Hiding the cables is actually very easy to do. There are mounts out there that come with sleeves you can run the cables through. You can also purchase a few wall plates that have HDMI, component, and audio inputs. Luckily for you, an HDMI cable provides both audio and video through a single cable. However, it is a good idea to go ahead and install wall plates for component and other common connections in case you might need them in the future.
What type of wall are you mounting your TV on? The most common type of wall has wooden studs for you to secure the mount to. You can use a stud finder to find out where the studs are located and lightly mark them with a pencil. If you have a concrete wall, there are concrete mounting anchors available for you to use. Some mounts may also include this type of hardware.
Where are you going to mount your TV? Finally, you need to decide where exactly you want to TV Mounts and Wire Concealment, Data Design & Consulting, Structured Cabling In Wisconsin, Network Cabling Wisconsin.
Serving Southern Wisconsin and the Twin Cities Metro
608.469.7196